If you're like many people and spend hours binge-watching Netflix and other streaming services, you might want to consider the impact TV watching can have on your brain.
New research from the United Kingdom shows that regularly watching over three hours of TV each day could lead to cognitive decline in language and memory down the line.
The study was published in late February in the journal Scientific Reports.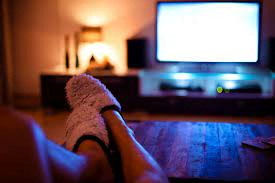 Study analyzes TV watching habits and reasoning skills among 50+ adults.
Study shows daily TV watching leads to a greater decline in verbal memory over six years.This decline was independent of factors like socioeconomic status, physical health, and depression. Adults who watched less than 3.5 hours experienced an average decrease of 4 to 5% over the same period, while those who watched more than 3.5 hours experienced an 8 to 10% decrease..
How can watching TV cause cognitive decline?
Dr. Fancourt warns that passively receiving information from television can cause stress and cognitive impairments. Research associate Tina Hoang found that watching television for over 3.5 hours per day may occupy time for other cognitively beneficial activities.
Further investigation needed to understand mechanisms underlying binge-watching's cognitive decline risk.
Addressing these changes is crucial for making informed decisions and effectively managing screen time.
What you can do
Hoang suggests balancing TV watching with engaging activities like games, puzzles, and learning new skills. Fancourt suggests combining passive TV time with contrasting activities like crossword puzzles, creative arts, or reading. Both suggestions promote heart health and brain health.
The bottom line
A UK study found that binge-watching TV may cause cognitive decline in older adults. Over 3.5 hours of daily TV watching is linked to language and memory declines. Researchers recommend engaging brains with puzzles, games, and physical exercise.